Boundary Commission recommendations for new parliamentary constituencies create a Mitcham and Norbury constituency. Unlike earlier proposals, Mitcham remains intact thanks to local campaigning. MPs will vote on the new proposals before they are implemented.
The Boundary Commission presented its proposals for revised parliamentary constituencies to parliament on 10th September 2018. They will need to be voted on before they take effect. If the proposals are supported the next general election will see a new constituency, called Mitcham and Norbury.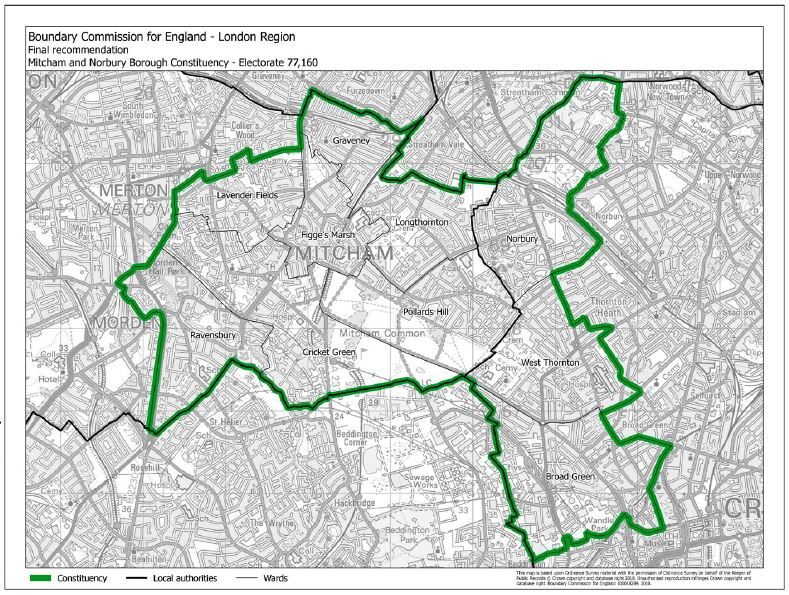 How we got here
Back in 2016 the Boundary Commission announced a review of Parliamentary constituencies. This was to comply with the government plan to reduce the number of MPs in the UK from its current 650 to a new target of 600.
The proposal that was put out for consultation at that time would remove the Mitcham and Morden constituency, and create a new constituency boundary running right through the centre of Mitcham. It would have separated Mitcham from its Common, split Upper and Lower Mitcham, and divided Three Kings Piece from Three Kings Pond.
Like others locally Mitcham Society was not happy with these proposals. We set up an online petition and gathered more than 200 signatures, before making a submission to the Boundary Commission against their proposals.
You can see the original proposal below.